Kaya Grigsby, 12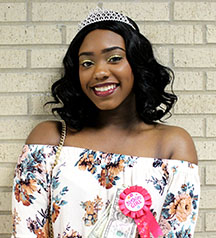 Hang on for a minute...we're trying to find some more stories you might like.
 Q: What's your favorite part of being on Step and Drill/ S.O.N.G.?
 A: "My favorite part about being on the Step Team is that we're very diverse, and so, not only do we get to show our creativity and how diverse we are, we get to show how competitive we are as a team."
 Q: What's one thing you've learned from your team, and or Mr. McCombs?
 A: "I've learned that we're only as strong as our weakest link. One thing we're going to focus on is making sure that everyone is on the same page, not leaving anyone behind and being more united as a family."
 Q: Other than stepping, what other talents will the team plan to showcase this year?
 A: "We're going to showcase dancing! We're gonna showcase off acting… singing, we might even have a couple of stunts coming in… so yeah we plan on trying a bunch of new stuff to add into our routines."
 Q: In what ways can the Step team, and S.O.N.G. relate, and learn from each other?
 A: "So, I feel like there's a lot of dancers on the Step Team that we didn't really know about, and so S.O.N.G. definitely came and showcased their talents and some of the dancers over there were like 'Ooo I can do that, let me do that!' So dance is definitely something we have in common, and also, S.O.N.G. was very willing to try to learn steps and be a part of our team."
 Q: Since the team is in the process of recruiting, what's one thing you would want anyone to know?
 A: "I want them to know that you know we are really big on positive attitudes, and that you shouldn't join the team just to join the team. Honestly, you have to put in the work and the commitment that it takes and in order for us to be a good competitive team."
 Q: What would you say to anyone who plans to the pursue other leadership roles available this year?
 A: "Be yourself, be great. Leadership comes naturally, it's not just something you could be like 'oh, let me read up on this,' type stuff… Just be yourself. Always try to be there as much as you can to help support others."
 Q: As a senior, what type of lasting impression do you intend to leave with your team?
 A: "I want them to set a known reputation for themselves. Like, when people hear about Step Team or S.O.N.G., they're like, 'Oh we already know what's finna go down. They're gonna have this going on, we gonna  have somebody popping off somewhere and doing something crazy…' You know? Like I want everyone to know how positive and how together we are as like a family- that if one of us falls down, we're all falling down, but we're gonna get right back up, together."