Shining Through The Darkness: Arielle Felix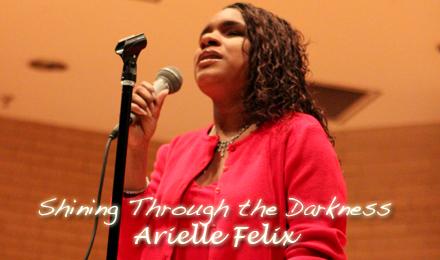 Hang on for a minute...we're trying to find some more stories you might like.
From meeting new friends to singing in the freshman choir, Arielle Felix is beginning to find her place at Summit High School one step at a time.
Arielle is beginning her freshman year as a fifteen year old with lots of thoughts and anxiety about her high school career. She's jumping into new and unfamiliar classes (like any typical freshman) such as Summit's choir and French 1. Unlike most, if not any student in the MISD, Arielle's persona is unique and quite special to say the least.
Arielle Felix is the only blind student that has attended Summit High School. Months before school had started, Arielle and her mobility instructor practiced walking through the halls and memorizing each amount of steps it took to reach her classrooms. Cane travel is not something new to Arielle. She was born with the disease glaucoma in her right eye, at the time she could only make out "basic objects".
"I could see the shape of cars and trees and things like that. I knew what my Mom looked like but that's basically it," Arielle said.
At the age of nine, the glaucoma spread to her right eye, completely erasing her vision. Sadly. she doesn't remember what her mother looks like anymore.
"Sometimes I wake up and have a bad morning and feel sad when I think about how I can't see anything and everyone else can see everything," Arielle said, "but reading and singing always makes me feel better."
Singing is not only her escape from her everyday obstacle in life, but an overall passion. Her spare time is consumed with writing lyrics that express things she feels unable to get across through simple conversations. She is currently a soprano 1, which means her voice is not only beautiful but extremely high.
"Not only singing in front of people but being scared to converse with people is something I've overcome," Arielle said, "if this were to happen a couple of years ago, I probably would've been too shy to speak to you about this."
She's proud of herself for having the strength to grow out of her comfort zone, but this is only one aspiration on her metaphorical "Aspirations" list. Aside from becoming a psychiatrist, Arielle plans to pursue her singing career upon turning sixteen by trying out for America's hit show, American Idol.
Arielle feels that she will eventually be able to enjoy Summit like other students she associates with, but for now, the simple task of walking through the hallway can be quite stressful.
"I mean, I know they see me coming or walking right by them," Arielle said, describing her walk through the crowded halls. "Some people in this school seem so rude and careless. I just don't like it when a person sees me walking and shoves me to the side or bumps into me like I'm not even there."
Arielle sees this as a lack of respect toward her and any other student feeling the same way. But a few rude students that she may encounter during her day at Summit aren't merely as important as her friends and family – the ones that she truly cares about. Her "circle of trust" includes her mother, grandmother, friends she's known for awhile and one particular best friend, Roselyn Jones, another freshman at Summit.
"These are the people I can depend on," she smiles.
Her life motto is: To live every single day to the fullest. And with her God given gift of a beautiful voice, her circle of trust, and her bright future soon to come, that is exactly what Arielle Felix plans to do.

About the Writer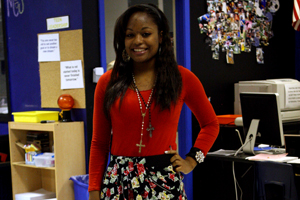 Blaire Bradford, Staff Writer
Hey, my name is Blaire Bradford. I'm a junior. I'm athletic, have a twin brother, and love Forever 21. I play lots of volleyball and take pride in my school...