Cooking Up Some Great Relationships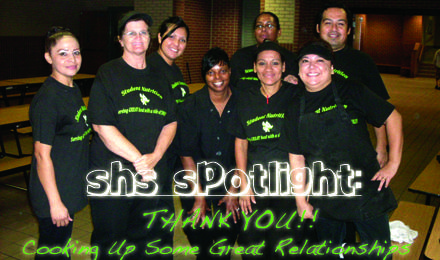 Hang on for a minute...we're trying to find some more stories you might like.
SHS Spotlight: Every month our staff will be featuring either a group or an individual person from around Summit, and highlight their contributions to our school. Everyone that is part of the Summit family has always gone the extra mile to make this school the best, and we think it's about time to let people know just how much they do around here. If you see them around the school, make sure to stop and say thank you for all that they do.
Everyday the first shift of lunch staff arrives at the school at 6 a.m. They begin setting up, preparing lunch lines, cooking breakfast, getting everything ready for the kids who will begin arriving shortly. Directly after the breakfast shift ends, clean up and preparation for lunch begins. At nine the latest shift for lunch arrives, and gets straight to work. In the line of food service, no branch is as devoted, and connected to it's customers as the school cafeteria. Lunch staffers work in a school where they see the same customers every day, and often new friends are made.
"I have some students orders memorized, but of course from time to time they change it up," Colleen Herrera said.
And after being at a school for over a year or two, the lunch staffers begin to see students grow and change.
"It's fun watching you all grow, I like to see the difference from grade to grade between the kids," Mullen said.
From cleaning ovens to taking kids orders to cleaning up after all the lunches are over; our lunch staff works hard from 6 to 2:30, creating good meals and strong relationships all for the students here at Summit.
Thank you!

About the Writer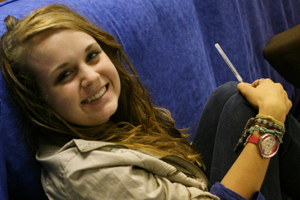 Ashley Wylie, Staff Writer
Hey, my birth certificate lists me as Ashley Kate Wylie but you can just call me Ashley' it also states that I was born on November 6, 1993, so you can...