F.R.O.G. Week kicks off Thursday
Hang on for a minute...we're trying to find some more stories you might like.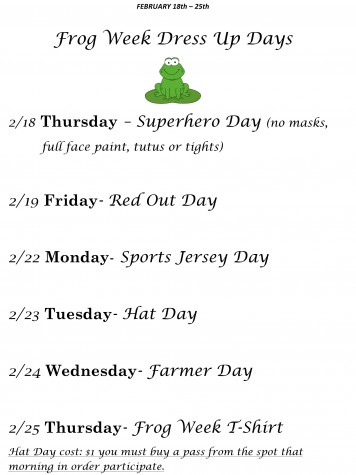 The schedule may be a bit different, but the goal is the same. Because of the early release day next week, F.R.O.G Week, which stands for Friends Reaching Out and Giving, will kick off Thursday and end on Feb. 25.
Proceeds from the fundraising events will go toward Make-A-Wish and helping 10-year-old Tanner attend a Manchester United Soccer match.
The schedule change isn't the only one this year. On Saturday, the Student Council will host a Food Truck Fun Fair that will include face painting, carnival games and music.
The annual messy pep rally will be included on Friday. The closing pep rally will be held on Feb. 25. Students will be able to participate in dress-up days each.
In addition to paying to attend the pep rallies, students will be able to contribute by paying for the Assistant Principal Pie in the Face Contest and by purchasing the always-popular truffles as well as cupcakes. On Tuesday, students will be able to pay $1 to take a break from the dress code and wear a hat.